G20 health ministers meet: The good, the bad, and the unknown for health R&D
Read time:
Health ministers of the G20 nations, representing the world's leading economies, met earlier this month in Mar del Plata, Argentina to chart a course of action on global health for the upcoming year.
Health ministers of the G20 nations, representing the world's leading economies, met earlier this month in Mar del Plata, Argentina to chart a course of action on global health for the upcoming year. Under the leadership of Argentina, the meeting and its resulting outcome declaration focused on four themes: antimicrobial resistance (AMR), malnutrition and child obesity, health systems strengthening, and public health preparedness.
While the language that found its way into the final declaration is worthy of note and analysis, so too are the items left on the cutting room floor. GHTC was pleased to see health ministers recognize the critical role of research and development (R&D) in combating AMR but was also disappointed to see further commitments on health R&D absent from the declaration.
Here we take a closer look at the good, the bad, and the unknown for global health R&D under the G20.
The Good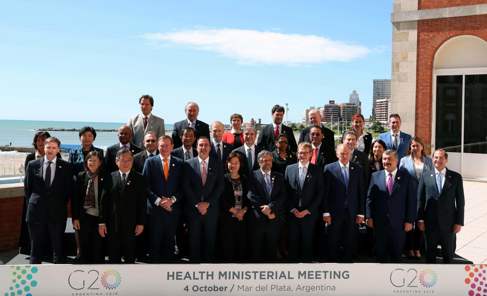 Following the precedent set last year under the German presidency, G20 health ministers reaffirmed their commitment to tackling AMR, emphasizing the role of new technologies in confronting this challenge. Importantly, the health ministers encouraged investment in R&D across a range of interventions—including antimicrobials, diagnostics, and vaccines—while "promoting affordable and equitable access to all individuals in need." Although this inclusion of language on access is not surprising, the framing of R&D in a broad sense is quite positive given the dire need for treatment-supporting technologies that are relevant to low- and middle-income country (LMIC) settings. Ministers also welcomed the work of product development partnerships (PDPs), including the Global Antibiotic Research and Development Partnership and TB Alliance. This call out of PDPs is important because it serves both as a validation of the PDP model and demonstrates that there are ways to support innovation while also working to ensure equitable access, concepts frequently seen as being in tension.

GHTC was also pleased to see the declaration define AMR broadly and note its "growing threat among…fungal infections and drug-resistant HIV, malaria and tuberculosis." While in wealthy countries concerns around AMR primarily center on "superbugs" and facility-acquired infections, the inclusion of health issues predominantly impacting LMICs is a long-overdue acknowledgment of the dangers of AMR in low-resource settings. It was also positive to see health ministers voice support for the 2017 commitment by G20 leaders to "further examine practical market incentives" to encourage stakeholders, including industry, to develop new antimicrobials. One of the key dynamics at play in the global health R&D ecosystem is the reality that there are a number of regions, diseases, and technologies for which there are not functioning commercial markets and as a result people do not have access to the health tools they need. New policies or incentives to help address these market barriers, while ensuring health equity, have the potential to dramatically accelerate progress towards universal access. It is positive that the G20 has committed to moving this agenda forward.
While GHTC was pleased to see the G20 continue to shine a spotlight on the role of R&D in addressing AMR, we were disappointed to see the G20 fail to acknowledge the importance of R&D in improving epidemic preparedness—particularly given that under the German presidency, the G20 pledged strong support for collaborative research initiatives, including the World Health Organization R&D Blueprint and the Coalition for Epidemic Preparedness Innovation.
The Bad

Unfortunately, the declaration takes a narrow approach to improving our ability to prevent, detect, and respond to outbreaks, focusing solely on health system strengthening. It is clear that being better prepared requires having both strong health systems in place and the right technologies on hand to prevent an outbreak from becoming a deadly crisis. We saw with the 2014-2015 Ebola epidemic, the 2015-2016 Zika epidemic, and the recent outbreaks of Nipah virus how the lack of available interventions like vaccines and diagnostics hampered response efforts. These crises have taught us that when it comes to fighting outbreaks, health system strengthening and R&D must go hand in hand.
Given the important signaling power of the G20 forum to its members and to the world, it is disappointing to see the G20, under the Argentinian presidency, take such a limited view of health security that fails to include research and product development. We hope future presidencies will take a more comprehensive view.

The known and unknown

While the G20 Leaders' Summit will not take place until November, with this declaration, we now know what they will say on health. As such, our attention as advocates now turns to the next holder of the G20 Presidency, Japan, and prognosticating how the G20 will choose to prioritize global health under its presidency.

Given that Japan has a long-documented history of prioritizing universal health coverage, as well as supporting global health R&D, we can be cautiously optimistic that the positive statements under Argentina will be expanded upon, and that we will see a more holistic view of the importance of innovation and R&D in global health at this time next year.
Photo credits: PATH/Georgina Goodwin, G20.